Three-Time Tour Winner and Current World #25, Charley Hull, has officially announced her extension with TaylorMade Golf and has chosen to switch to the company's TP5 Golf Ball
Basingstoke, Hants (July 01, 2020) – Team TaylorMade's Charley Hull, who has achieved success on both the Ladies European Tour and the LPGA Tour, has chosen to add  the most complete Tour ball in golf to her bag with TP5.
Charley is at the pinnacle of the women's game, but when it comes to equipment every player is different. Some are heavily numbers based, some prefer the feel, and then there are multiple combinations of both. Charley is very much a feel-based player and leaves the numbers to the Tour reps. During an extensive fitting session earlier this year, Charley immediately saw the benefits of TaylorMade's new SIM driver versus her previous gamer.  After testing both TP5 and TP5x golf balls, it became apparent that a change of golf ball was going to be beneficial.
Playing a strong shaft, probably the strongest of any female on Tour, TP5 offered that little bit of extra spin, compared to TP5x, and a flight she was more familiar with, while still carrying a little further. Seeing the benefits of combining SIM driver with TP5, Charley gained 1mph clubhead speed and 2-3mph ball speed. This resulted in about half a club gain through the bag, but importantly her dispersion was also much tighter. Charley was able to consistently manage her spin rates from shot to shot, meaning the collective average was not only longer, but more accurate.
I'm really excited to continue my relationship with TaylorMade, they have looked after me so well from the beginning, it was an easy decision to make. Their staff, products and approach towards myself and the women's game has been inspiring to see, it's great to be a part of Team TaylorMade. I had been using my previous ball for a very long time, but as soon as I tried TP5 I knew it was going to benefit my game. I swing quite hard, so sometimes it can be difficult for me to manage spin, but TP5 was just so consistent through the bag it was a no brainer to put it into play. If you haven't already, you need to try this ball.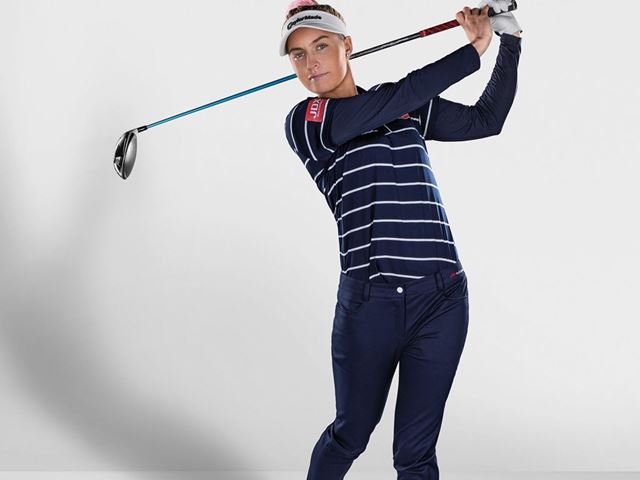 Charley, well-known for becoming the youngest competitor to participate in the Solheim Cup at age 17, has won already won twice on the Ladies European Tour alongside winning the prestigious CME Group Tour Championship, the season-ending event of the LPGA Tour, in 2016. Now ranked 25 in the world, her accomplishments already put her in an elite class of golfers and rivals any active player on Tour. Charley is currently teeing it up in the Rose Ladies Series, where she claimed victory in the inaugural event at Brokenhurst Manor, before the LET and LPGA Tour resume.
At TaylorMade, we have worked extremely hard on our women's strategy to find the right players to partner with our company, players who have the potential to follow in the footsteps of our icon players. I have no doubt Charley will develop to become a world class icon and ambassador for the women's game. By achieving her own set goals, playing her part in influencing the growth and exposure of women's golf. I'm delighted that Charley has not only decided to trust in TaylorMade to help achieve this, but now that the partnership is proven, the choice to renew this agreements early by both sides is testimony that TaylorMade's equipment support and development systems are best in class. A big part of this partnership is Charley's trust in the performance of TaylorMade's golf ball. Making the same choice in TP5 alongside many of the world's best players is testament that the ball performance is best in class. The expectations are high, TaylorMade have 14 clubs and a golf ball that excites elite golfers to look nowhere else in any category by choosing TaylorMade exclusively.
CHARLEY HULL WITB:
SIM 10.5 Driver | Attas Rockstar 6X
SIM Max 15.0 Fairway | Tensei Blue 70 S
SIM Max 19.0 Rescue | UST iROD 85 S
P730 Irons | 4 – PW | Nippon Modus 125 S
MG2 Wedges | 50, 54, 60 | Nippon Modus 120 S
TP5 Golf Ball