Esther Henseleit, Ladies European Tour winner and LPGA star from Germany, has signed a multi-year agreement to play a full bag of TaylorMade equipment and golf ball
Basingstoke, Hants. (January 27, 2022) – TaylorMade Golf Company adds to its impressive roster of talent with the addition of Esther Henseleit as she enters the next phase of her career. Esther, who finished 37th on the Race to CME Globe last season, tees it up today at the Gainbridge LPGA at Boca Rio.
Esther, who started playing golf when she was eight years old because her mum was looking for a new hobby, joined the German national team in 2014 before finishing third at the 2016 International Amateur Championship. In 2017, she was selected for the Junior Solheim Cup, and in 2018 she was runner-up at the European Ladies Amateur Championship.
With a handicap of +7.1, Henseleit turned professional in January 2019 and finished third at Qualifying School for the 2019 Ladies European Tour. Her first professional win came at the Skaftö Open on the LET Access Series, which qualified her for the 2019 U.S. Women's Open, finishing T30 in her first major tournament.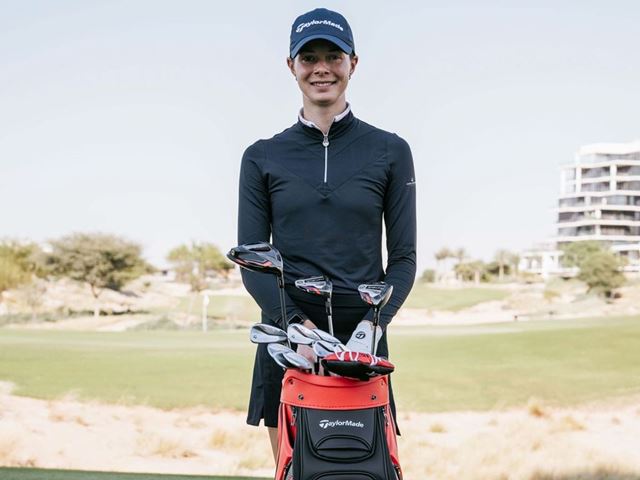 I think TaylorMade is such a special brand. So many world class players have made TaylorMade their brand of choice to be as competitive as possible. TaylorMade's products have always been driven by performance and innovation. On top of it the clubs just look great, I'm honoured to join Team TaylorMade.
In December 2019, Esther won her maiden LET win at the Magical Kenya Ladies Open. She secured both the LET Order of Merit and LET Rookie of the Year in the same season, becoming only the third player to do it. In addition to her win, she finished runner-up four times for ten total top 10's. Henseleit gained her 2020 LPGA Tour membership through Q-Series and has already had four top 10's on the LPGA Tour.
Esther will play 14 TaylorMade clubs and golf ball, including the company's new Stealth driver.
I think it looks pretty cool, I really like the shape of the head and everything, and it just feels great when it goes off the face. I really like it, and I can't wait to play it in tournaments and see how it performs, but I'm very optimistic that it will do great.
Esther launches the ball very high, so it was a case of managing her launch angle but not losing spin. Finding the right setting on Stealth was vital; she was hitting Stealth a little bit lower on spin, and a little bit hotter, meaning the distance was more through the ground. So it was the case of bringing her ball flight up a little, a little bit more spin and giving her a bit more carry. The Stealth head helped in that respect. She also likes to have the option of getting more distance on the ground, with a slightly lower flight and lower spin that she can chase out when it's windy because she hits it so high. Esther lowered her spin with an 8.0 degree Stealth Plus head and gave her exactly what she wanted for windy conditions. So depending on the conditions, she has the option to play either model.
This year, Esther added a loft to her fairway woods, enabling her to launch them a bit higher with a bit more carry.  When testing the MG3 wedges, she found the spin to increase but with a slightly lower trajectory. This has helped her with distance control and pitching, enabling her to get the right number to attack flags consistently.
We are thrilled to have Esther join the tour staff and TaylorMade family for this next chapter of her career. With her now well established in her professional career it seemed a good time to test equipment and meet the team here, and show her what we can offer. She is extremely consistent and easy to work with, and tested very well across all products. It just feels like a good fit from both sides, and we are all looking forward to contributing as part of her team to push her to the next level.
ESTHER HENSELEIT WITB
Stealth 9.0 driver
Stealth Plus+ 15.0 fairway
Stealth Plus+ 19.0 fairway          
Stealth 22.0 rescue
P770 5-PW
MG3 50.SB, 54.SB, 58.LB
Spider GT putter
TP5 Golf Ball