Scheffler's win at THE PLAYERS marks the second consecutive PGA TOUR win for Stealth 2 driver and sixth across major professional men's and women's tours in 2023
The now World No. 1 joins Jack Nicklaus and Tiger Woods as the only players in history to hold Masters and PLAYERS titles simultaneously
CARLSBAD, Calif. (Mar. 12, 2023) – Scottie Scheffler held strong through tough Sunday conditions at TPC Sawgrass to capture his sixth career win in the last 392 days at THE PLAYERS Championship. Scheffler is just the third player in the last 40 years to record first and sixth career PGA TOUR wins within 400 days of each other.
Scheffler returned to the World No. 1 ranking by converting the 54-hole lead for the third time in his career via a Sunday 69 highlighted by leading the field in driving distance with his Stealth 2 Plus 8.0° driver in the final round with an average of 308-yards.
For the tournament (68-69-65-69), Scheffler led in driving distance (305.9-yards), Greens in Regulation (75 percent), Strokes Gained: Tee to Green (17.7), Strokes Gained: Total (16.9) and was 2nd in Strokes Gained: Off the Tee (5.5). His 17.7 SG: Tee to Green is the most by anyone at THE PLAYERS since shot tracking began on the PGA TOUR.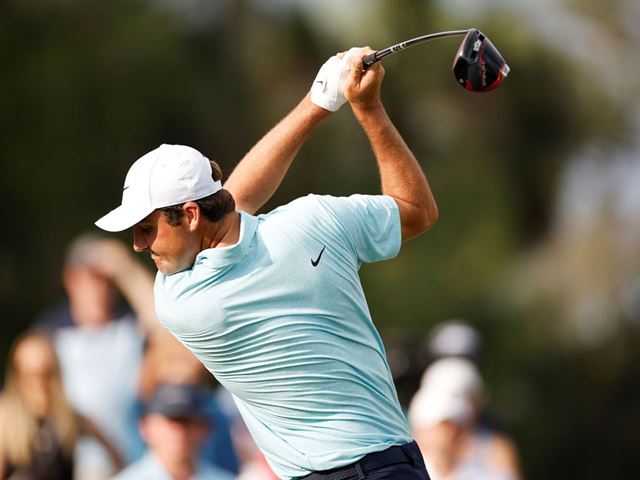 Courtesy of Getty Images
Scheffler made five birdies in a row in the final round starting on the 8th hole led by strength off the tee with tee shots of:
322-yards on 9 – Stealth 2 Plus driver
291-yards on 10 – Stealth 2 3-wood
310-yards on 11 – Stealth 2 Plus Driver
304-yards on 12 – Stealth 2 3-wood
Scheffler vaulted out to a six-shot lead after the birdie run and won the tournament by five strokes.
NEED TO KNOW: SCOTTIE SCHEFFLER
Third player in the last 40 years to record first and sixth PGA TOUR wins within 400 days of each other (recorded first career win 392 days ago at 2022 WMPO)

Scheffler's win at THE PLAYERS marks the second consecutive PGA TOUR win for Stealth 2 driver and sixth

 

across major professional men's and women's tours in 2023

Scheffler's second win with Stealth 2 Plus driver in 2023 and sixth overall with a TaylorMade driver (four with Stealth Plus)

All six of Scheffler's career wins have come with P·7TW irons and four of six with Stealth 2/Stealth 3-wood

Joins Jack Nicklaus and Tiger Woods as the only players in history to hold Masters and PLAYERS titles simultaneously

Scheffler's 17.7 SG: Tee to Green is the most by anyone at THE PLAYERS since shot tracking began on the PGA TOUR
SCOTTIE SCHEFFLER WITB
Stealth 2 Plus 8.0° driver (Ventus Black 7X)

Stealth 2 15.0° 3-wood (Ventus Black 8X)

P·7TW 5-PW (Dynamic Gold Tour Issue X100)